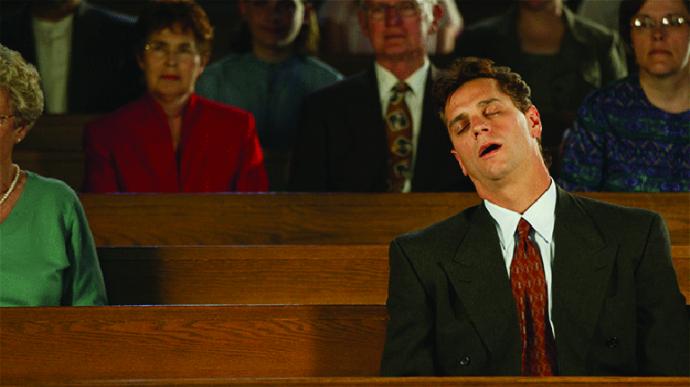 In a plan sure to be replicated around the world St. Joe's Catholic Church of Atlanta, Georgia has "innovatively" decided to monetize the ever popular pre-Mass announcements. "I don't know why we didn't start this before," questions a Church representative. "People come to us all the time asking if we can advertise their cook-out, garage sale, job opening, etc., and we give away that valuable prime time advertising for free."
Beginning this weekend, St. Joe's will begin to fix this. "Bring your ad, posting, message, complaint, or even joke to us before Friday, or better yet upload it to the Church4U app and we'll have a professional actor read it off for the prime pre-Mass announcement slot," says the church's Liturgy Engineer (priest) Dr. Mark Marr. "Only 10 cents a word per Mass."
Dr. Marr admits that these prices may not last as his church tests demand, but suggests that this is only the beginning. "The Parish Council is looking into the concept of a halftime show after the homily from which we can earn some valuable sponsorships. There's the homily of course. Why not have a bid system to see what I talk about. Pay more and I give an upbeat short sermon, less and I drag on with fire and brimstone. Or there's the ever-popular post-Communion announcements… The possibilities are endless."
While local youth reportedly want "the liturgies to be spiced up a bit" as local parishioner Leandra King claims, some are skeptical of this plan. "If you make the Mass out as if it's ad-supported, that might hurt donations," warns an anonymous parishioner.
Further, several youths have come out anonymously saying that they want "the spicing up to be by incense, not more ads". "Can't they just replace the stained glass windows with LCD screens and put the ads there," another questions. "I don't want to make this thing (Mass) any longer." There is also some question of how many customers these pre-Mass announcements might actually reach as "Obviously only those few mistaken on the timing of the Mass would come early enough to hear these announcements" warns King.
Nevertheless, the church is moving forward with the plan as Dr. Marr announced and reports of high demand may have announcement ads booked through to September for the prime-time Saturday vigil Mass. "The lower demand Mass time on Sunday may have some June spaces, though," Marr offers. "Brand your business alongside prestigious names like ACME Electronics, Love Intercultural Center, and the A-Z Scouts of America's parade.
None of the commentary expressed in this article is necessarily the opinion of Irkutsk Ice Truckers or any of its subsidiaries